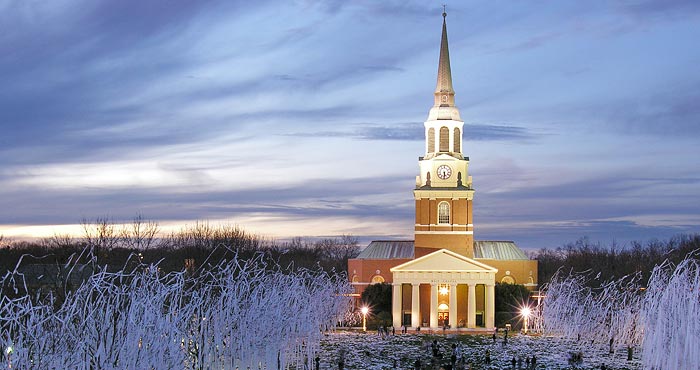 Adjustments to charges, prepayments, financial aid disbursements and overpayments often result in credit balances on student accounts. A credit balance is indicated on the student account by parentheses ( ) surrounding the balance.
---
Click here to submit an online Refund Request form to Student Financial Services.
(Only WFU students can submit an online request.)
---
No refund request needed if:
A student has a credit balance and has Title IV aid disbursed to their student account for the current semester.
Title IV Aid consists of the following:
Federal Pell Grant
Federal Supplemental Educational Opportunity Grant (FSEOG)
Stafford/Ford Direct Loans
Federal Parent (Plus) Loans
A refund request is needed if:
The student does not have Title IV aid for the current semester.
The student has participated in the Nelnet monthly payment plan (current semester) and has completed all monthly payments which results in a credit balance on the student account as a result of the last monthly payment.
The student has a study abroad scholarship disbursed for travel expenses.
* Title IV aid refunds are processed after the aid has been disbursed (paid out) to the student account and are processed on Tuesdays and Thursdays unless it is an official University closure. *
Students who are eligible for refunds due to a credit balance on their student account can either:
Sign up for direct deposit (see next tab for instructions)
OR
Receive a paper check mailed to their primary address on file with Wake Forest. It is the student's responsibility to have all addresses updated correctly with the respective Registrar's Office.
* Student Financial Services does not disburse paper student refund checks from their office in Reynolda Hall. All refunds are direct deposited or sent to the student's primary address in the form of a paper check. *
Wake Forest encourages students to utilize direct deposit. This will provide students with a convenient and secure way to access their funds faster.
Direct Deposit in 3 Easy Steps:
Step 1: Sign into WIN/Personal Tab/Employee & Student Payment Inquiry/Direct Deposit Authorization & Maintenance
Step 2: Enter your banking information under the 'Accounts Payable Deposit' section of the form.
Step 3: Check the box to authorize and click to Save. A message on the screen will confirm that your banking information was saved successfully, and the status of your account is active. You may then log out.
---
Direct Deposit- Important Additional Information:
After Student Financial Services' processes the reimbursement, direct deposits can take up to two-three business days from the Tuesday or Thursday processing date to be delivered to banking institutions based on individual bank processes.
Students should verify that the payment has been deposited into their bank account prior to relying on the funds for withdrawal
If a student's banking account information changes, they will need to access WIN and make any necessary changes immediately.
Tuition & course fees are refunded to both full and part time students according to the Schedule of Refunds for Withdrawal or Continuous Enrollment.
Online Counseling Programs are refunded according to the Online Counseling Programs Refund Schedule.
Mandatory fees such as transcript, student health service fee, student activity fee and technology fee are nonrefundable after the first day of classes.
Wake Forest charged housing & meal plans are refunded according to the Housing & Dining Agreement.
Food Dollars are non-refundable. Unused Food Dollars within a meal plan carry over from week to week through the end of the spring semester and then expire. Food Dollars purchased outside of a meal plan roll over from year to year until a student graduates or leaves the University and then expire.
The vehicle registration fee is non-refundable if the parking sticker has been placed on the vehicle.
Refunds of payments made via DEAC or by check will not be processed until 10 business days have passed since the receipt of the last payment.
---
Financial aid disbursement refunds are processed after the start of classes for the fall and spring semester and three to five business days after the credit appears on the account.
Credits resulting directly from a Parent Plus loan will be refunded according to the election on the Authorization form.
If a refund is requested for a credit balance after the first day of class, the refund is issued to the WFU student unless it is a Federal Parent Plus Loan, a trust payment or a return of an outside scholarship due to withdrawal.
---
If a student/authorized party takes out a Nelnet Business Solutions monthly payment plan, no refunds can be processed until the last payment has been paid and that results in a true credit balance on the student account.
Student Financial Services only accepts funds that cover a student's educational expenses. If a payment is received that is not for payment of educational expenses for the current term, a student can request to either: (1) Leave the funds on their student account to cover future term educational expenses or (2) Wake Forest will return the funds via the original method of payment to the originator of the payment.
---
Deacon Dollars remain on the Deacon OneCard until depleted or until a student graduates or leaves the University. When a student graduates or leaves the University, remaining Deacon Dollars are transferred to the student's account and any outstanding fees are deducted. Any remaining balance is refunded to the student.
Wake Forest University is committed to providing students whose applications and awards are completed prior to the opening of school with credit balances from federal financial aid. If you receive a Pell Grant, which when added to your other financial aid, exceeds your University charges, we will provide you with the means to purchase books within seven days of the first day of the semester. This can be either in the form of a student refund or credit on your Deacon One Card. Please contact Student Financial Services, if your financial aid award is complete, and you have concerns about the ability to purchase books. If your financial aid award is not complete, please contact the Financial Aid Office.