The Deacon OneCard is the Wake Forest Student ID
It is also used for:
Identification
Library privileges
Keycard access to enter University buildings
Event admission
University cashless payment system

Meal Plan/Food Dollars
Deacon Dollars
Copying/printing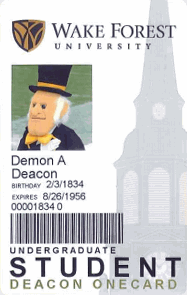 Frequently Asked Questions
All on-campus students are required to purchase a minimum meal plan based on their housing assignment. If a student who lives on-campus does not choose a meal plan, the Base Plan will be automatically assigned and billed to the student's account. Meal plans are also available for students who live off campus.
A student's meal plan consists of block meals used in the Fresh Food Company (also known as The Pit), the Magnolia Room, or Hilltop Market at the North Dining Hall.
Old Gold Swipes that can be used at certain retail food locations on campus for combo meals. A listing of locations can be found through the Deacon Dining website.
A declining balance fund called Food Dollars that allows students to make food purchases from any eatery on campus (except Campus Grounds). Food Dollars are equivalent to U.S. dollars. Food Dollars can only be used for food and convenience store purchases. NOTE: Many students and parents prefer using Food Dollars to ensure funds are set aside specifically for food purchases.
Additional Food Dollars
At any time, additional Food Dollars may be added to a student's Deacon OneCard if needed. Students who live off campus and do not wish to have a meal plan may also add Food Dollars to the Deacon OneCard. This can only be done through the Dining website. Charges for Food Dollars do not appear on student accounts.
Unused meals and Food Dollars within a meal plan carry over from week to week through the end of the spring. Food Dollars purchased outside of a meal plan roll over from year to year until a student graduates or leaves the University. At that time, unused Food Dollars are non-refundable.
Meal plans are processed through Residence Life & Housing since they are packaged with housing assignments. Questions or requests to change plans should be directed to housing@wfu.edu or 336.758.5185.
Student Financial Services cannot add or change meal plans or add Food Dollars to a student account.
Deacon Dollars are a declining balance fund that can be used for both food and non-food purchases at most campus locations. Deacon Dollars are equivalent to U.S. dollars.
IMPORTANT: The Deacon OneCard is not an acceptable payment method for tuition, housing and meal plan charges.
Deacon Dollars are accepted for:
Food Purchases at all campus food/dining venues
Non-Food Purchases at the following locations:

Benson Copy Center & Ticket Office
Campus Barber Shop
Campus Recreation
College Bookstore
Deacon Shop
Scales Fine Arts Center (tickets)
Student Financial Services (fines)
Student Health Service
Wake Forest University Post Office
Z. Smith Reynolds Library (copying and printing)
Remember: Food Dollars are not accepted for non-food purchases.
Unused Deacon Dollars do not expire. They remain on the Deacon OneCard until depleted or until a student graduates or leaves the University. When a student graduates or leaves the University, remaining Deacon Dollars are transferred to the student's account and any outstanding fees are deducted. Any remaining balance is refunded.
Although students will have different expenses, the University recommends that students place $1,000 per semester on their card for non-meal plan purchases. Below is an average breakdown of what a student might spend in Deacon Dollars.
Average Deacon Dollars Spent Per Semester
| | |
| --- | --- |
| Textbooks | $500 |
| School supplies/study aids | 200 |
| Health Services | 100 |
| Student Union | 100 |
| Miscellaneous (Copy Center, Event Tickets) | 100 |
| TOTAL | $1,000 |
Check your Deacon Dollars balance online
Add additional Deacon dollars online through Deacon Dining
Calling Dining Services at 336.758.5607 or 800.528.5778
Visit the Wake Forest Dining Services Window on the first floor of Reynolda Hall (beside The Pit) Monday through Friday from 8:30 a.m. to 4:30 p.m. EST. Deacon Dollars added through Dining Services are available for use immediately.
Students with a credit balance may email sfs@wfu.edu and request any/all of their credit be transferred to Deacon Dollars.
A fee is charged to replace a Deacon OneCard that is lost, stolen, damaged or malfunctioning. For more information, please click on the link below.