Main Content
Payment Schedule
| | Notification Issued | Payment Due |
| --- | --- | --- |
| Fall Tuition Deposit (returning undergraduates) | March 1 | March 31 |
| Fall | June 1 | August 1 |
| Spring | November 1 | December 1 |
| Summer Sessions | May 1 | June 1 |
Please be advised that Fall 2020 charges will not be visible on the 6/1/2020 statement. Fall charges and deposits will be available beginning with the 7/1/2020 statement. The due date for Fall tuition and fees is 8/1/2020.
If payment is not received by the due date, a registration & official transcript hold will be placed on the student's account. This will prevent the student from confirming his/her class schedule, making any changes to a schedule or receiving an official transcript. Non-payment may also result in the cancellation of classes.
If a student adds classes after the due date, the payment is due immediately.
Bill Format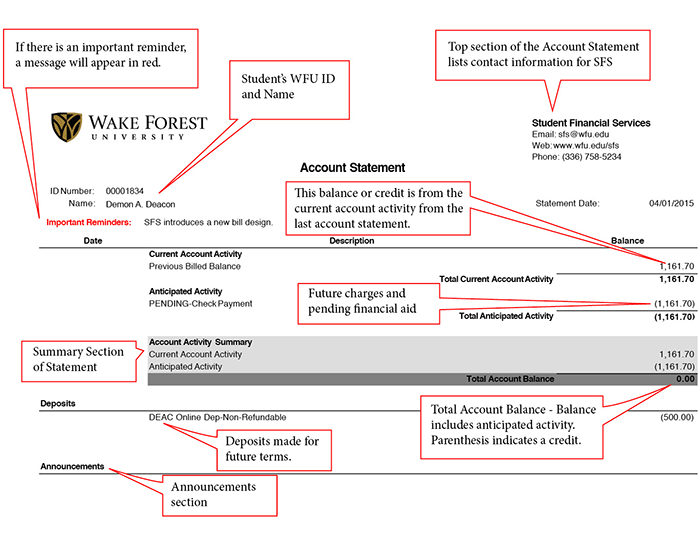 Student Employment
The University issues paychecks for campus jobs through the Payroll department. Student Financial Services cannot direct deposit paychecks into student accounts.
Athletic Scholarships
Athletic scholarships on student account statements reflect the amount that will be applied for:
tuition
student activity fee
on-campus housing
on-campus meal plans
other required fees
An on-campus meal plan will automatically be placed on the student's Deacon OneCard each semester. Students who are unsure whether an athletic scholarship covers an on-campus meal plan should not purchase a meal plan until they have contacted the Athletics Office of Compliance.
Books
Any athletic scholarship funds for books will not be included in the award shown on the statement. Contact the Athletics Office of Compliance about receiving these funds.
Deacon Dollars & Vehicle Registration
Athletic scholarships cannot be used to add funds to Deacon Dollars or for vehicle registration.
Questions?
Contact the Athletics Office of Compliance at 336.758.3992.