Billing / Payment Schedule
| Semester | Notification Issued | Payment Due |
| --- | --- | --- |
| Fall | July 1 | August 1 |
| Spring | November 1 | December 1 |
| Summer Sessions | May 1 | June 1 |
---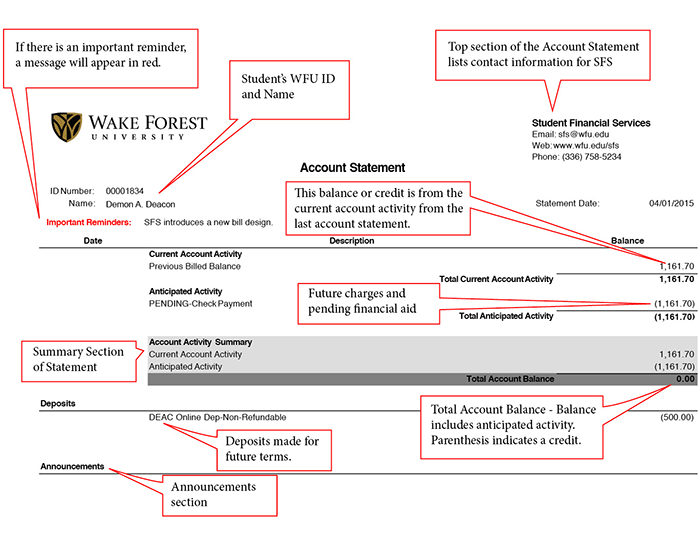 Example of a DEAC Account Statement
---
Additional Information
The University issues paychecks for campus jobs through the Payroll department. Student Financial Services cannot direct deposit paychecks into student accounts.
Athletic scholarships on student account statements reflect the amount that will be applied for:
tuition
student activity fee
on-campus housing
on-campus meal plans
other required fees
An on-campus meal plan will automatically be placed on the student's Deacon OneCard each semester. Students who are unsure whether an athletic scholarship covers an on-campus meal plan should not purchase a meal plan until they have contacted the Athletics Office of Compliance.
Books
Any athletic scholarship funds for books will not be included in the award shown on the statement. Contact the Athletics Office of Compliance about receiving these funds.
Deacon Dollars & Vehicle Registration
Athletic scholarships cannot be used to add funds to Deacon Dollars or for vehicle registration.
Questions?
Contact the Athletics Office of Compliance at 336.758.4243.